BORDERLANDS 3
Release date: September 13, 2019
Genre: First-person co-op looter-shooter
Borderlands 3 Ultimate Edition, the quintessential Borderlands 3 experience, is included in Borderlands Collection: Pandora's Box! Borderlands 3 Ultimate Edition contains the award-winning base game plus all six content add-ons and the full collection of bonus cosmetic packs.
Let's Make Some Mayhem! Borderlands 3 has you blasting through multiple worlds as one of four Vault Hunters, the ultimate treasure-seeking badasses, each with deep skill trees, abilities, and customization. Play solo or party up in co-op to take on deranged enemies, score loads of loot, and save the galaxy from a fanatical threat.
The Calypso Twins, Troy and Tyreen, are ruthless new media cult leaders who have convinced the bandit clans of the Borderlands that they are their Gods and Saviors. They consider the power of the Vaults to be their birthright and are leading their weaponized worshippers, The Children of the Vault, on a crusade to claim it. Only you have the arsenal and allies to take them down.
With over one billion guns available—including firearms with self-propelling bullet shields, colossal saw blade launchers, and guns with legs that chase down enemies while hurling verbal insults—every fight is an opportunity to add to your collection. Your adventure starts on the familiar desert planet of Pandora, but before long you'll be wreaking havoc in new vistas across the galaxy including a backwater swampland, a futuristic city, and a picturesque monastery.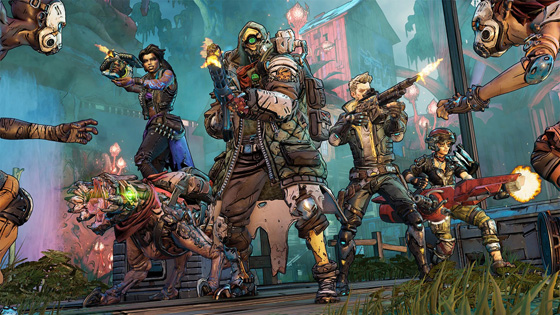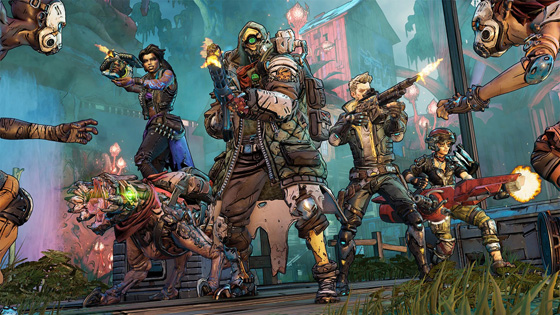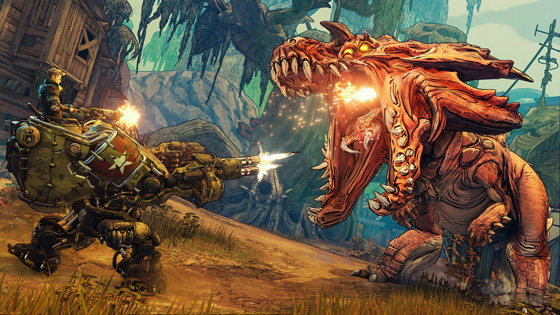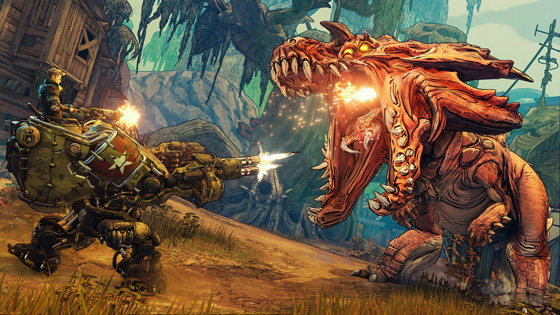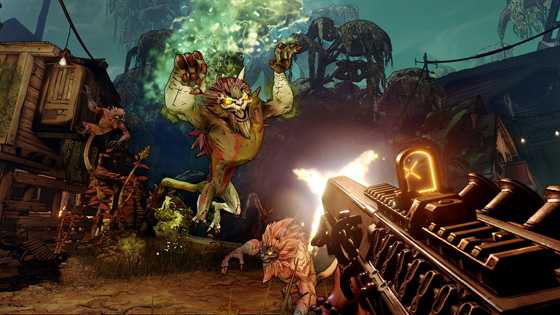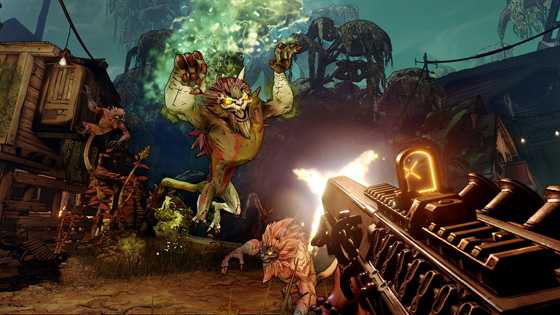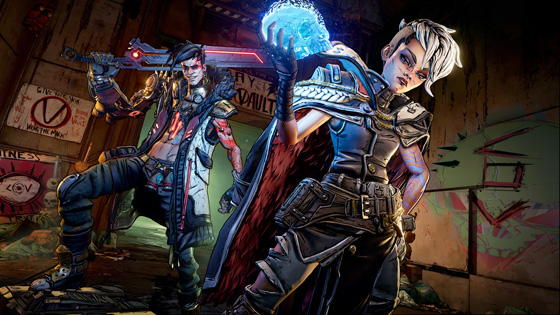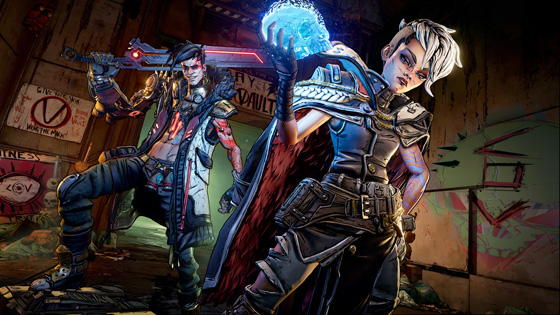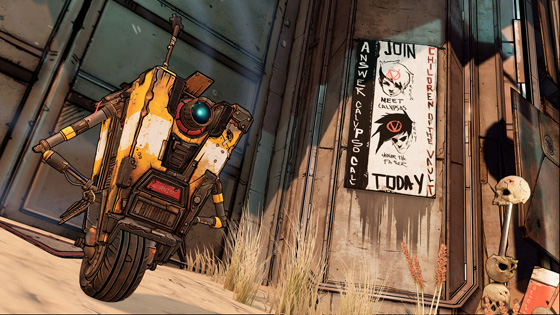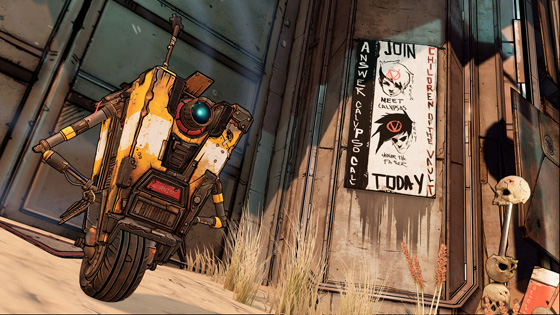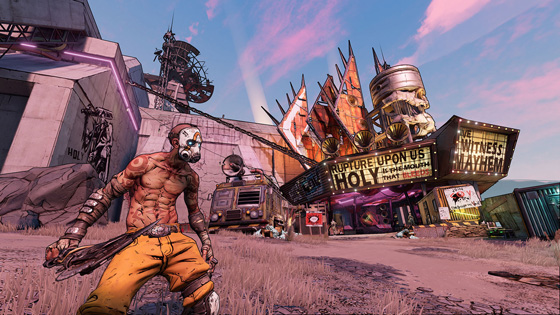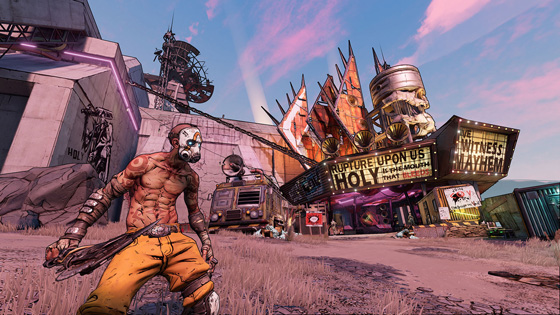 Add-On Content
(Included in Borderlands Collection: Pandora's Box and Borderlands 3 Ultimate Edition)
Moxxi's Heist of the Handsome Jackpot
Ready for the biggest score of your loot-hunting career? Moxxi has just the job for you, sugar: a good old-fashioned heist. Join her crew of ragtag "experts," battle your way through Hyperion security forces and crazed casino-goers, and claim The Handsome Jackpot's vault of loot for yourself.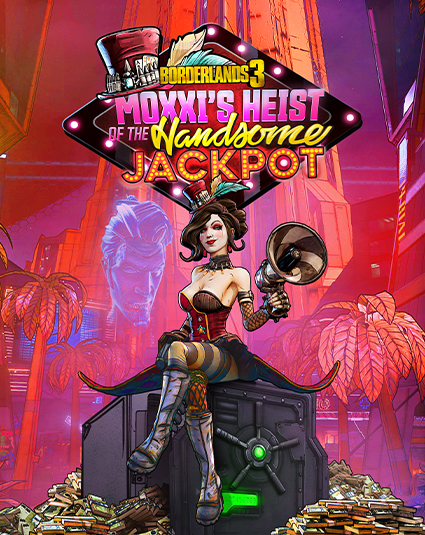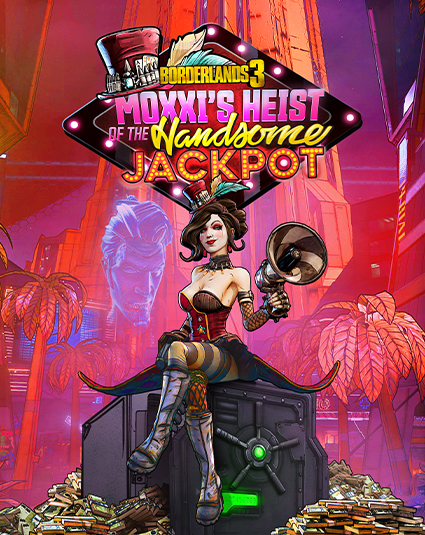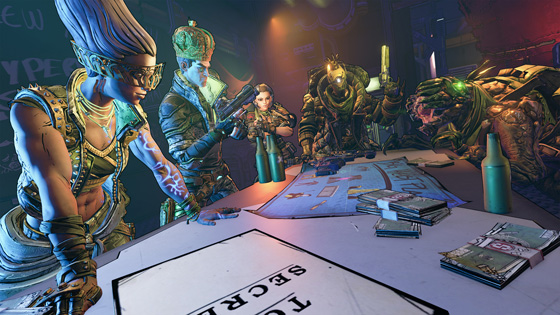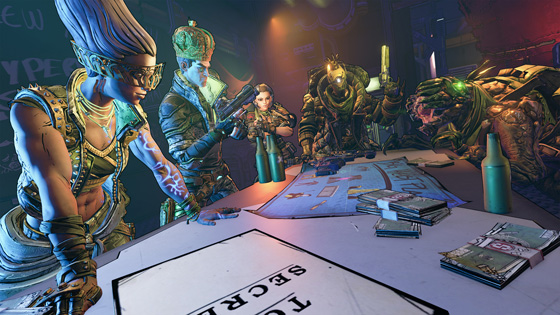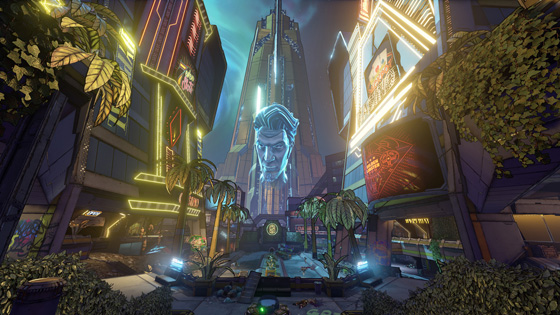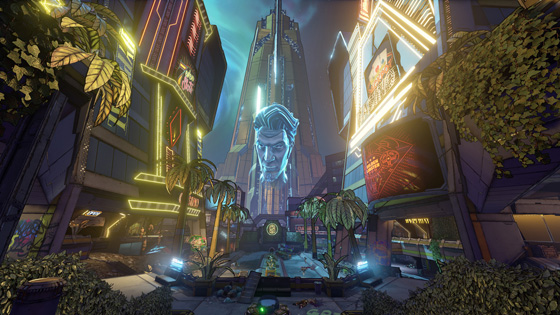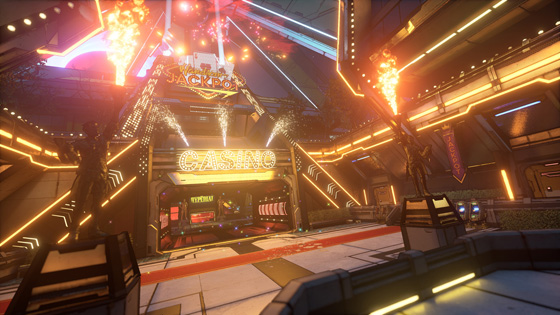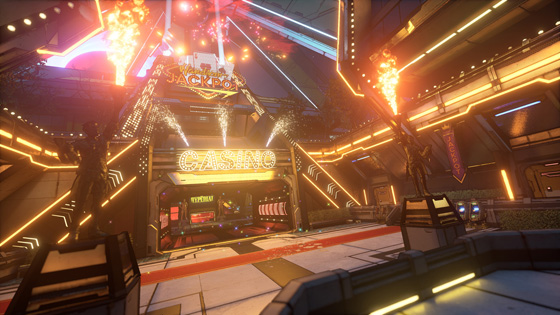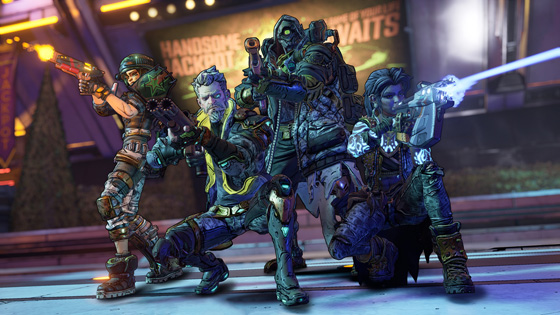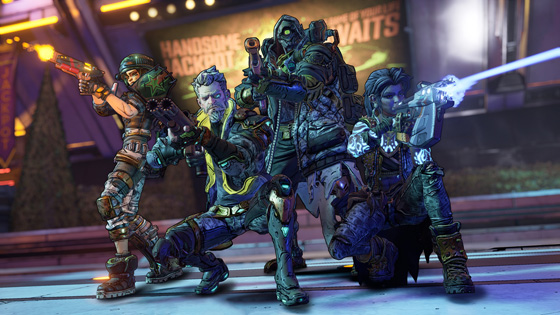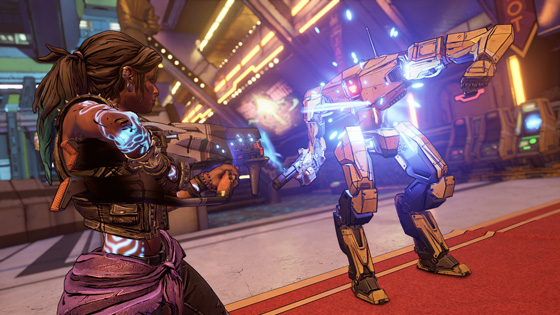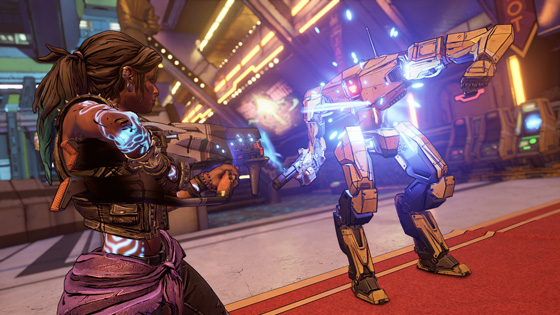 Guns, Love, and Tentacles: The Marriage of Wainwright & Hammerlock
Hammerlock and Wainwright are inviting you to their engagement party on the ice planet of Xylourgos, where a gargantuan monster lies frozen above a village full of deranged occultists. Fight back against forces of otherworldly evil with the help of the galaxy's most badass wedding planner: Gaige, a former Vault Hunter who's inseparable from her robot BFF Deathtrap.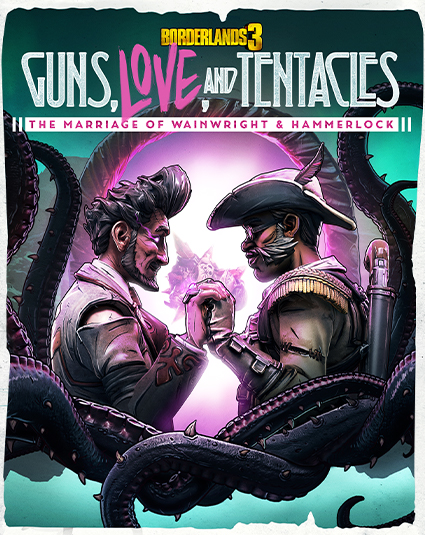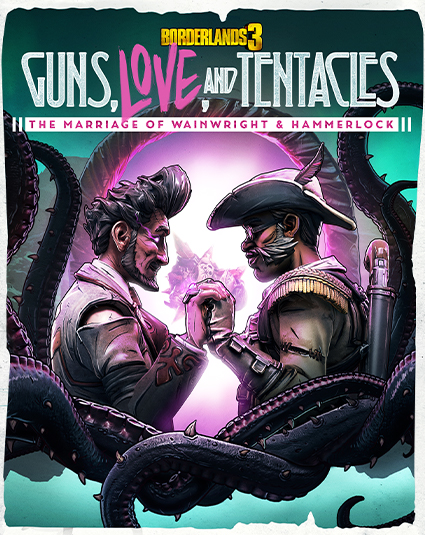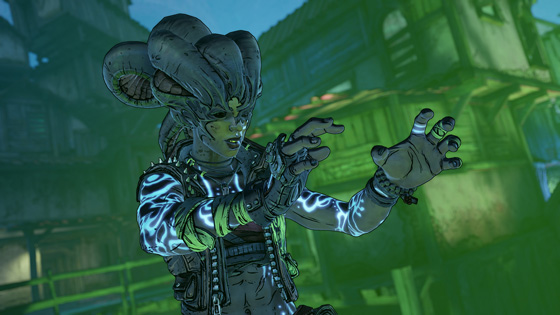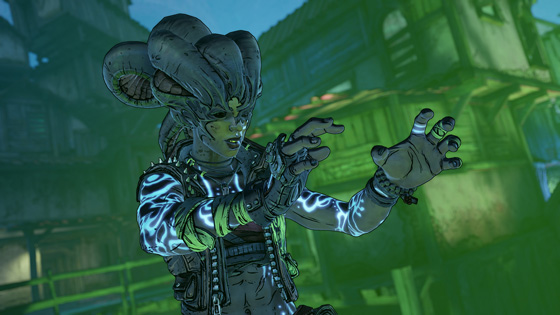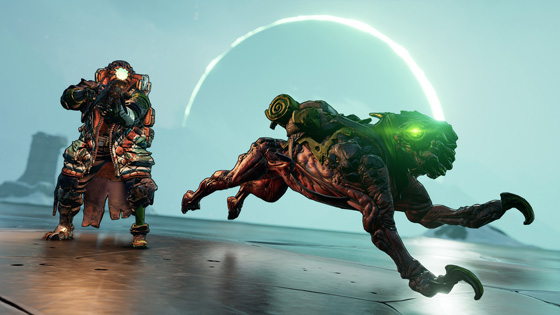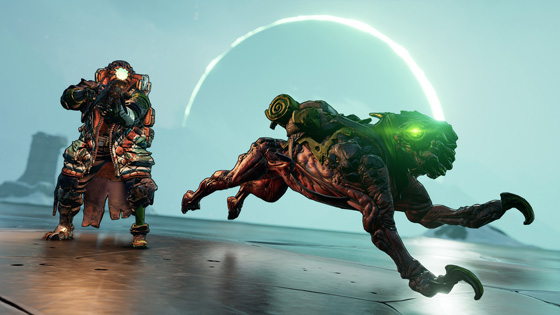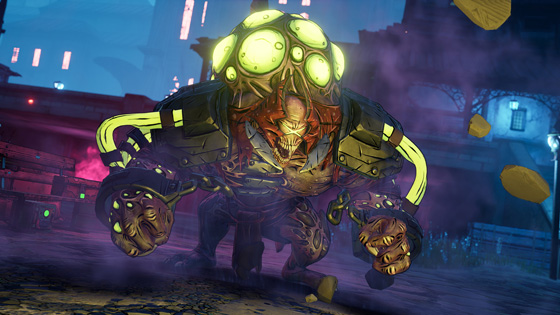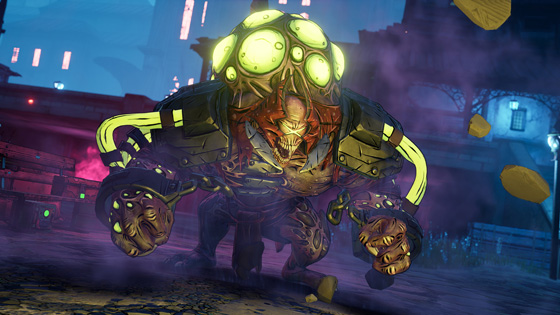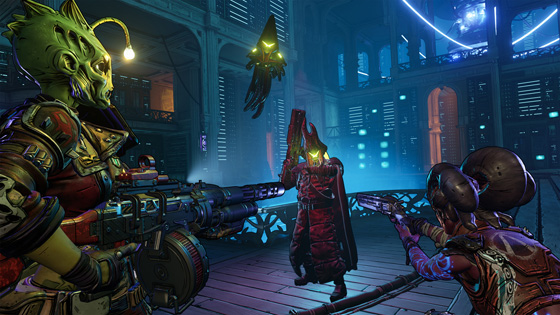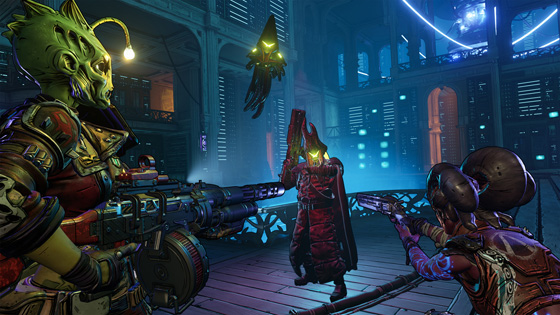 Bounty of Blood
You've come to the brutal frontier planet of Gehenna in hopes of collecting a bounty on The Devil Riders, a violent gang of beast-riding mercenaries. Team up with tough-as-hell locals to protect and rebuild the town of Vestige. Then take the fight to The Devil Riders using new interactive objects and the added Jetbeast mount in this gritty tale told by an unseen narrator.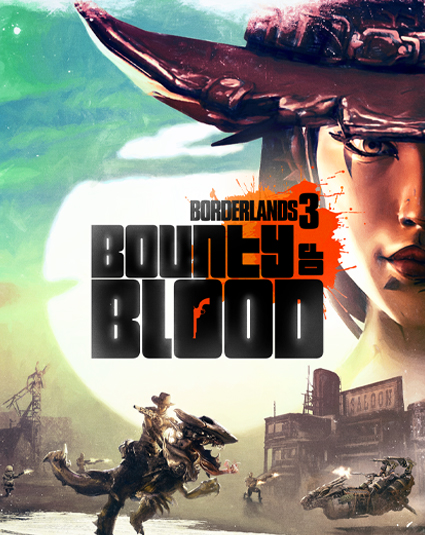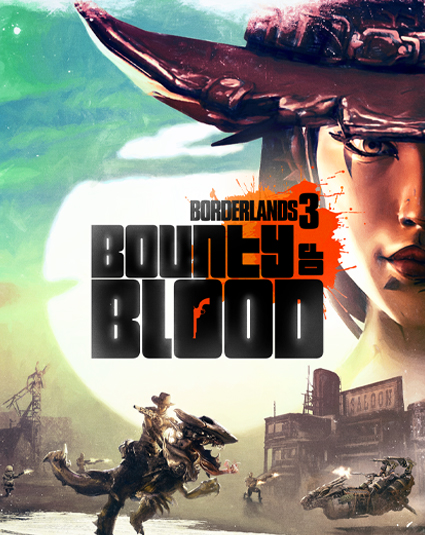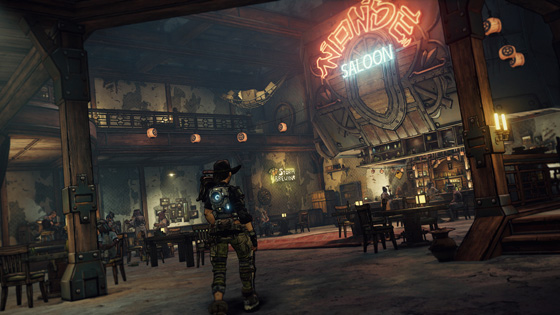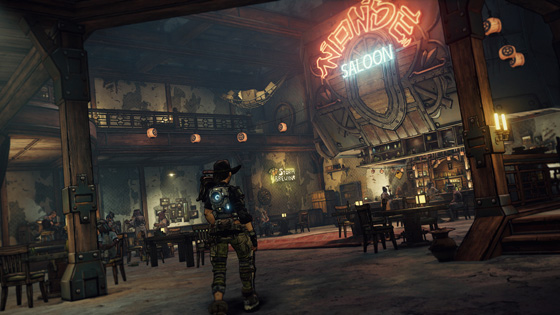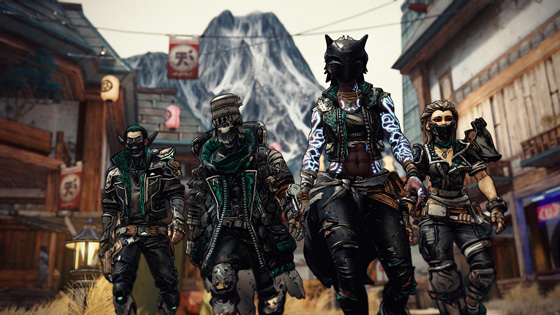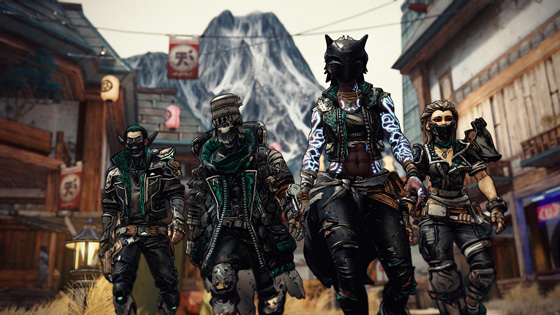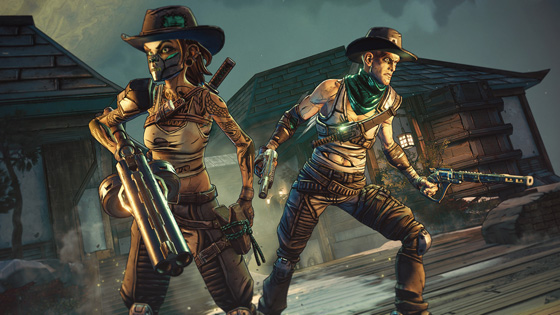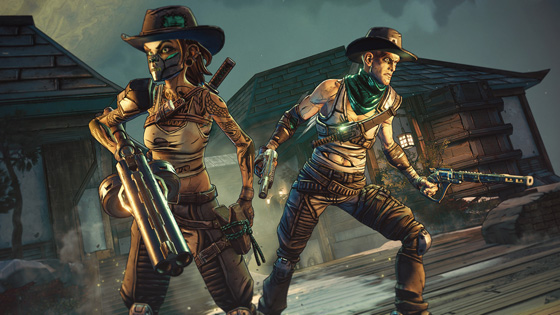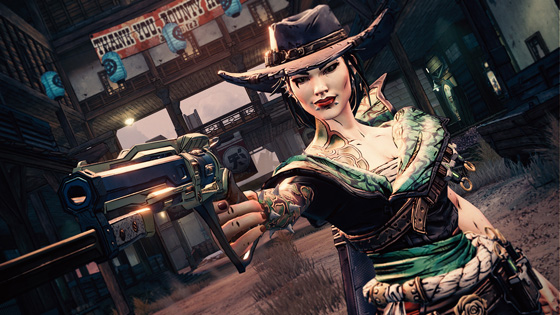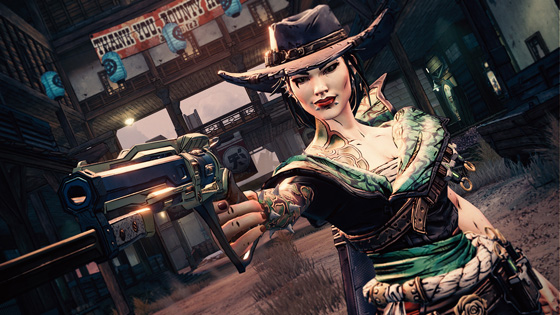 Psycho Krieg and the Fantastic Fustercluck
Explore the chaotic mind of the heroic bandit Krieg in search of clues leading to Vaulthalla, a mythical place that supposedly induces insanity. Help both sides of Krieg's dual psyche process his traumatic memories by blasting his inner demons to bits, and try not to succumb to lunacy inside Krieg's imagination full of memory fragments, twisted mindscapes, and meat. So much meat.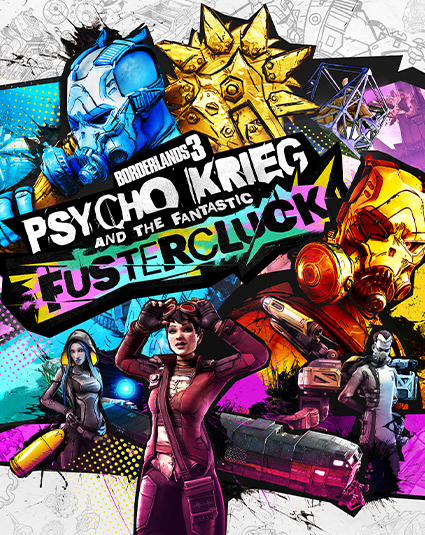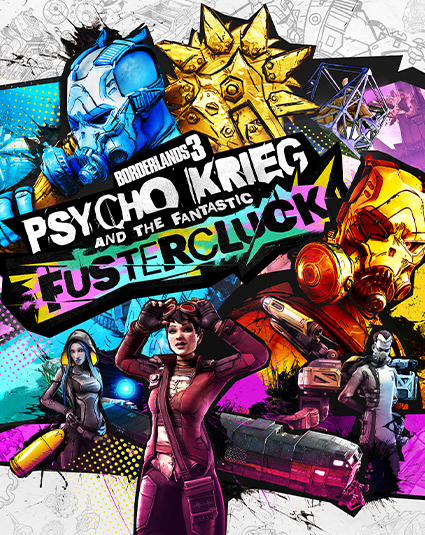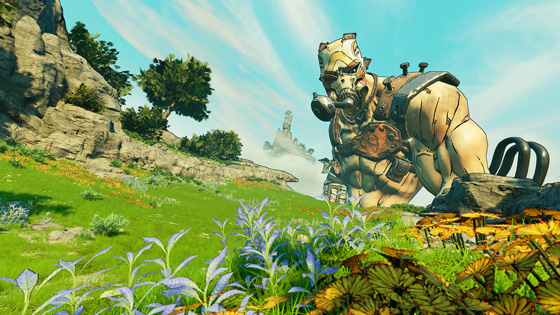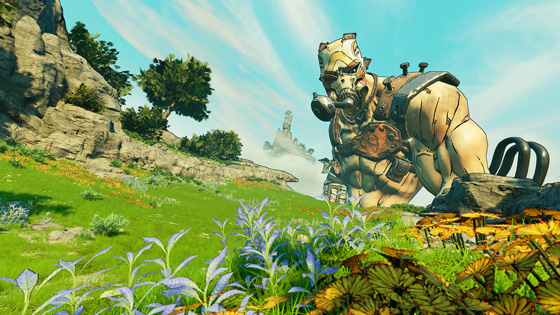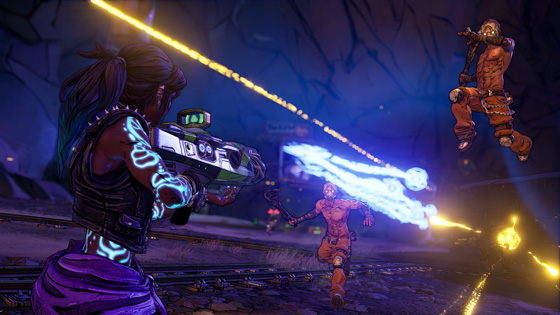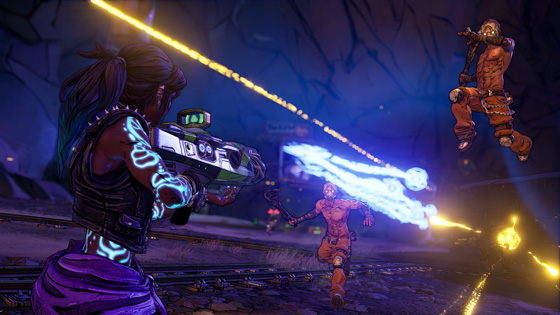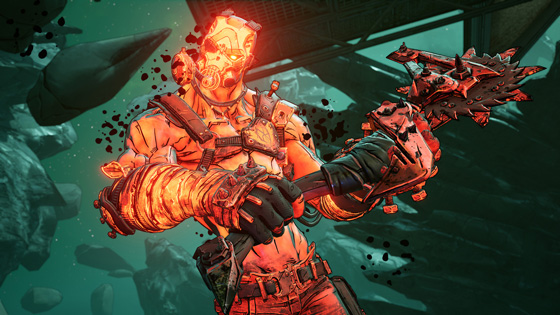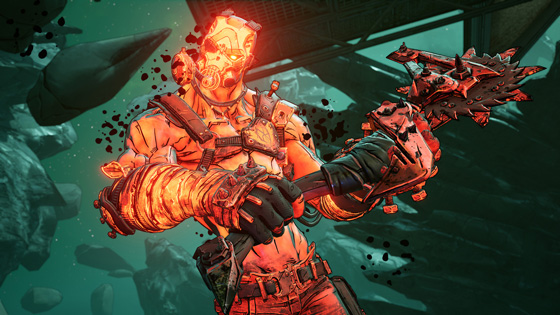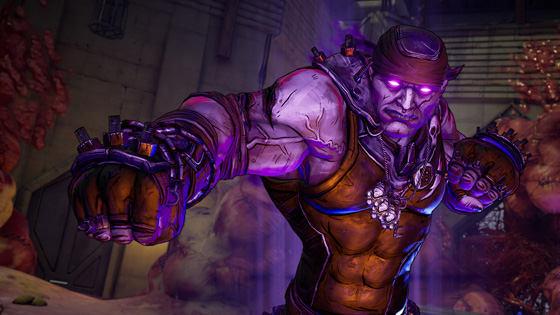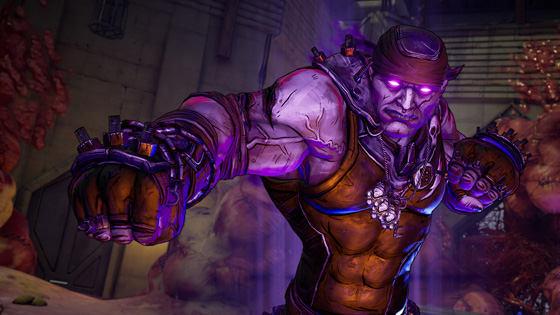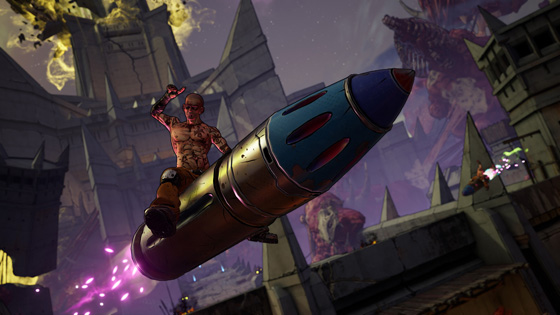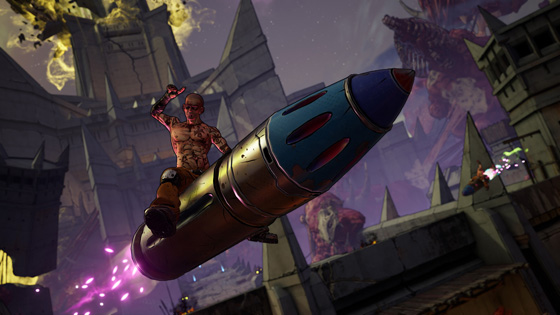 Designer's Cut
Expand your Borderlands 3 experience with the Designer's Cut add-on content! The all-new Arms Race mode is an endlessly replayable gauntlet set in a hidden area of Pandora, challenging you to gear up your Vault Hunter from scratch and extract the best loot you find or die trying. Vault Hunters can also wield the power of new builds made possible by an additional skill tree for each character class, complete with fresh Action Skills to mix up your playstyle.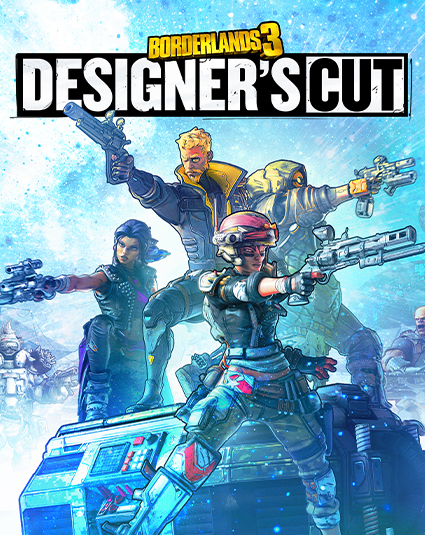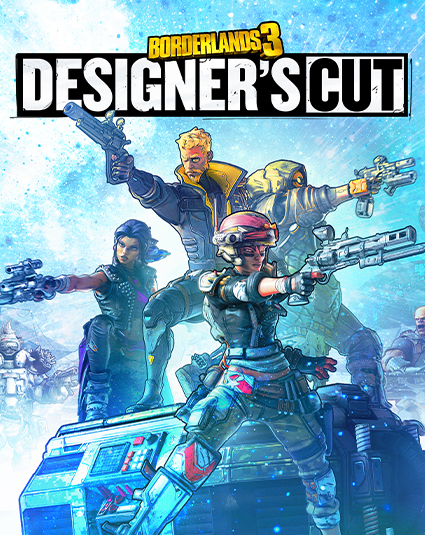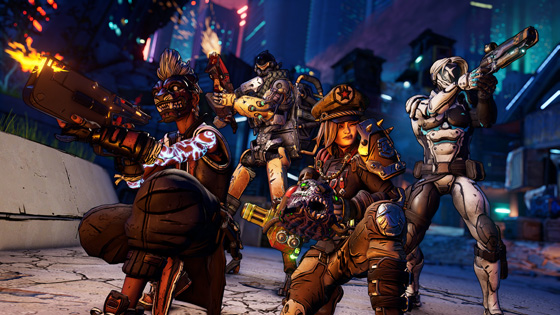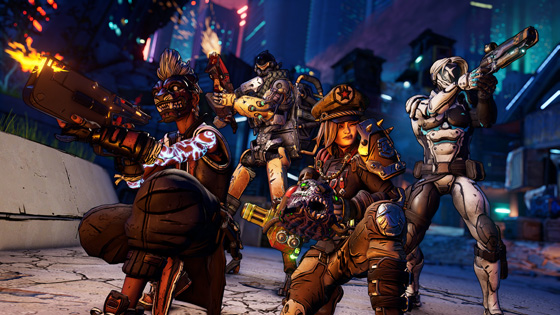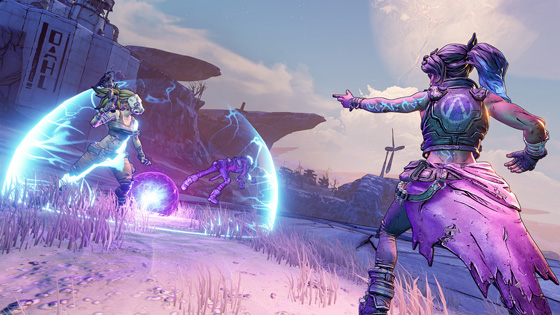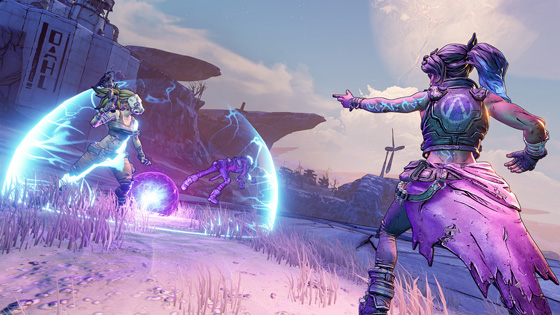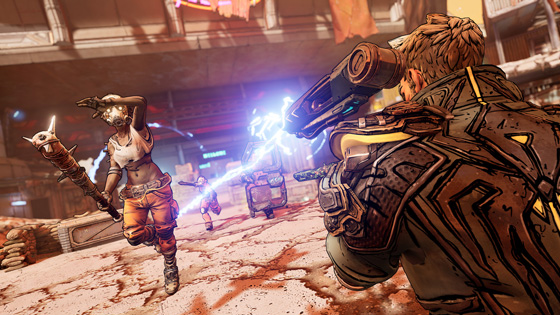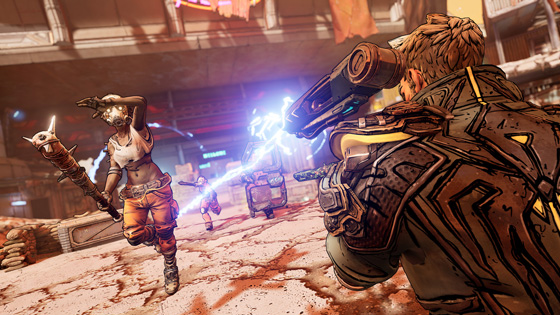 Director's Cut
Borderlands 3 gets even bigger with the Director's Cut add-on content! Test your mettle against the most fearsome of all Varkids, scour the galaxy to solve a string of murders, experience never-before-seen content and insights from the creation of Borderlands 3, and earn rewards with three new Vault Cards featuring themed loot and powerful gear. Collect tons of added cosmetics, including new Vault Hunter Heads and Skins, weapon skins and trinkets, lively emotes, ECHO Device skins, and room decorations to display proudly aboard Sanctuary III.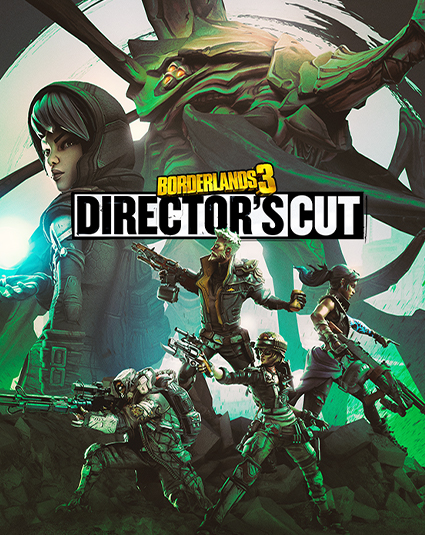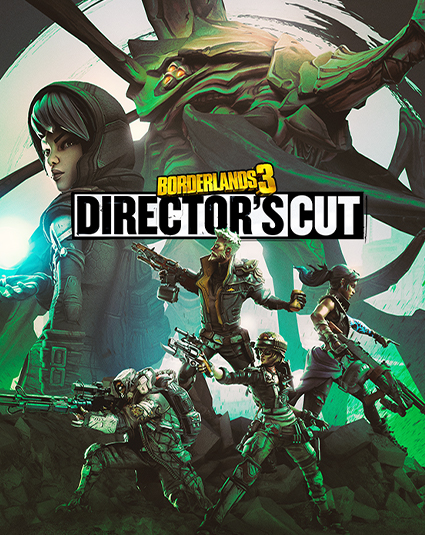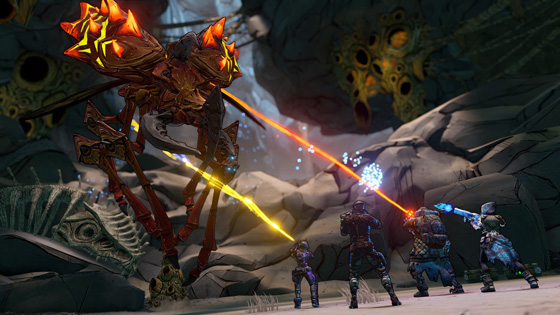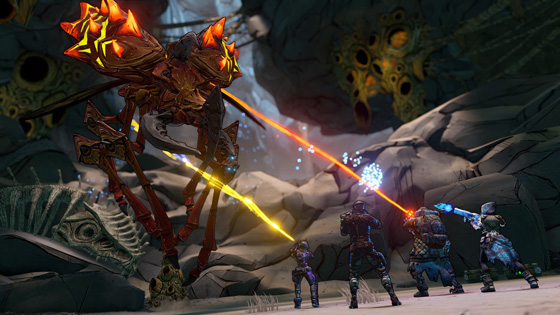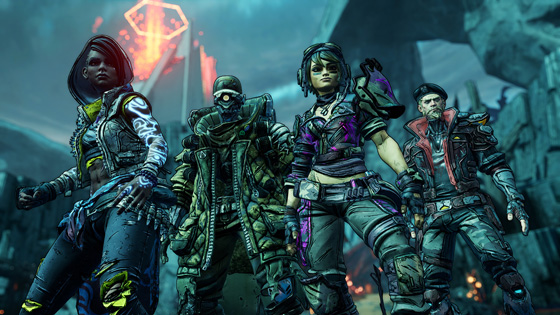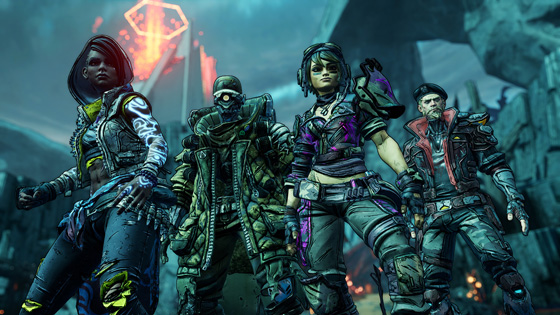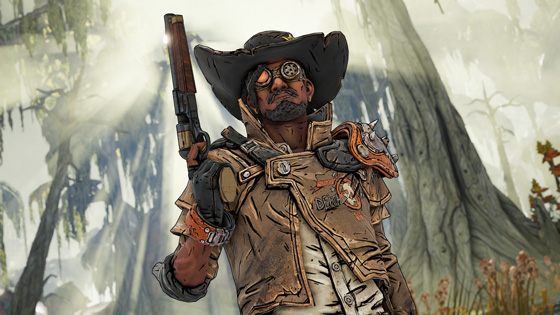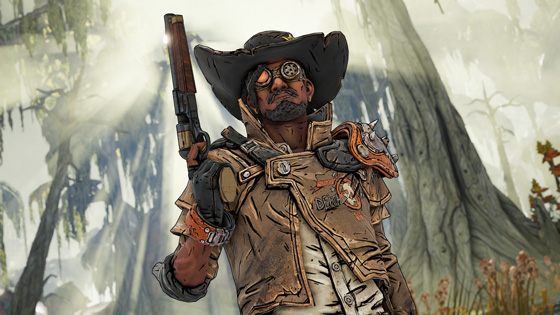 CLAIM THE COMPLETE MAYHEM PACK!*
Get up to a whopping 40 Golden Keys that grant you awesome in-game loot!
Claim 10 Golden Keys each for Borderlands: Game of the Year Edition, Borderlands 2, Borderlands: The Pre-Sequel, and Borderlands 3, as well as the Axton Vaultlander for New Tales from the Borderlands, by completing the following steps!
Subscribe to receive newsletters and digital marketing from 2K and Gearbox, using either the button below or an authenticated SHiFT Account.
Log in with your SHiFT Account in-game.
*Requires a copy of Borderlands: Game of the Year Edition, Borderlands 2, Borderlands: The Pre-Sequel, Borderlands 3, and/or New Tales from the Borderlands. Users must opt-in to receive newsletters and digital marketing from 2K and Gearbox via a verified 2K Account or a verified SHiFT Account and log-in to your verified SHiFT Account in the game to receive rewards. Offer ends at 11:59 PM ET on December 31, 2025. Users will receive 10 Golden Keys each delivered in-game for Borderlands: Game of the Year Edition, Borderlands 2, Borderlands: The Pre-Sequel, and Borderlands 3 for up to 40 Golden Keys total if you own all four games. In-game loot granted by Golden Keys is randomized; weapons and gear shown above are for reference only. Axton Vaultlander will be delivered in-game in New Tales from the Borderlands. Please allow for up to a week to receive your in-game rewards. One redemption per SHiFT account. Void where prohibited. Terms apply. Must be 18 or older to be eligible.
BORDERLANDS COLLECTION: PANDORA'S BOX
Get the complete Borderlands experience with this all-in-one collection, including all six acclaimed base games, as well as all the add-on content for Borderlands, Borderlands 2, Borderlands: The Pre-Sequel, Tales from the Borderlands, Borderlands 3, and New Tales from the Borderlands in one giant bundle.
Experience the iconic franchise that defined the looter-shooter genre with its over-the-top firefights, absurdly varied arsenals, and thrilling interplanetary adventures perfect for solo and co-op play.