As you're likely already aware, the events of Borderlands 3 play out across multiple planets and planetoids with different aesthetics, objectives, and enemies. Another key component of each area's distinct identity are the different soundscapes that help bring these environments to life. Borderlands 3's major planets were each scored by a different composer, while music supervisor Raison Varner and the team at Gearbox focused on many of the other locations that you'll visit. Today, we're excited to share one track each from the planets of Eden-6, Promethea, and Pandora, alongside commentary from the incredible composers who created them as they explain their respective approaches and influences.
First though, a word from Raison himself, whose previous credits not only include story, seasonal, and DLC compositions for Borderlands and Borderlands 2, but also the voice-acting roles of Loader Bot and the iconic Psycho Bandit!
"At its heart, Borderlands is about playfulness, and while our series is known for its colorful music choices, the real magic comes from the underlying playfulness we all approach the writing with. It's those moments when the player feels like they're having fun with the material, just like we had fun with it, that Borderlands delivers its personal touch. It's like everyone is in on the game and are playing along with us."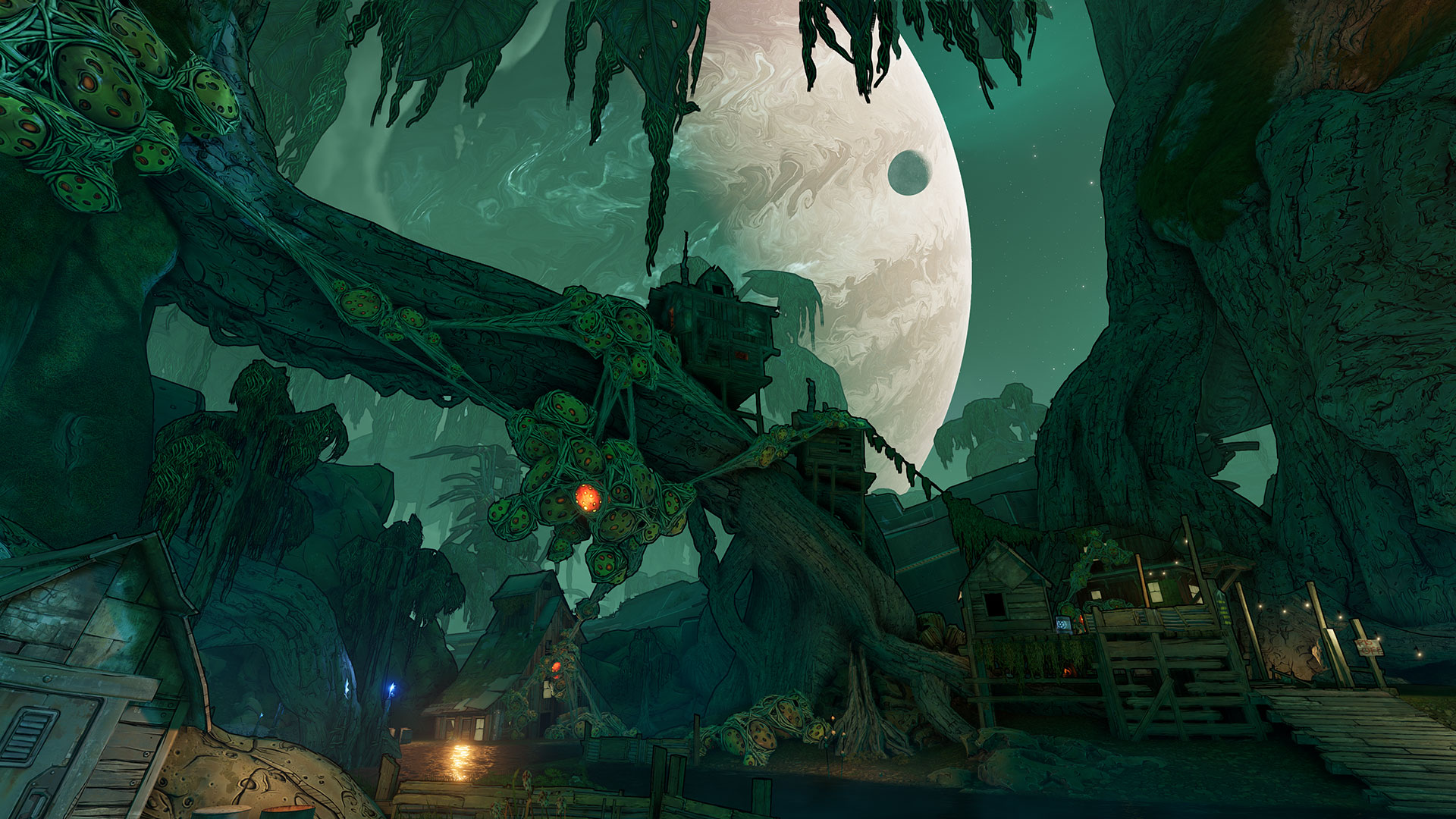 EDEN-6
Composer: Jesper Kyd
BAFTA award-winning and MTV-nominated composer Jesper Kyd is internationally celebrated for creating iconic and uniquely atmospheric music scores for the Assassin's Creed, Hitman, State of Decay, and Warhammer: Vermintide series, Darksiders 2, and all of the Borderlands games.
"For Borderlands 3 we created a unique music style that embodies the organic location of Eden-6. Subsequently I wanted everything to be recorded a bit more lively, loose, and organic. It was important that the music sounded more like it was performed by a band in places, and other times I resort to a fully electronic approach.. But I always approached the score with lots of melodies while retaining an organic foundation.
"This was one of the first tracks I worked on for Borderlands 3. The music is a reflection of early concept art I was given, which had giant spaceships hidden in the swamps of Eden-6. It made me think of the secrets these giant abandoned ships might hold and the stories they could tell.
"Borderlands is a very intense experience and there's a lot to see and do. So writing rich melodic exploration music is something we feel fit very well with this over the top and very entertaining type of gameplay. The overall instrumentation is a mix of acoustic and electronic music. The Boss fights goes from purely EDM to more hybrid tracks mixed with acoustic and electronic instruments. I mixed a lot of different music styles together to come up with the sound of Eden 6. I use instruments such as dobro and acoustic guitars, electric and lap steel guitar, live percussion, male vocals, live cellos, live violins (including a drunk violinist), musical saw and I record a lot of my own sounds and performances which I process and turn into custom made sounds. I also use the modular Eurorack Synth to create musical sound design including alien animal sounds. Other synths I use are the Prophet 10, the Roland VP330 and the Yamaha CS80." - Jesper Kyd
"Jesper and I often speak about the importance of melody, and how one of the great things about games is that we can really push those melodies forward in the experience. Having the music stand out and not be afraid to take a strong part in the identity of the scene or environment is something we both believe in. There are times when Jesper and I will start to weave stories in the music that may not actually be present in the plot for that level. Sometimes we use narratives in the music to help give subtle emotional overtones against the banter of the characters." – Raison Varner, Music Supervisor for Borderlands 3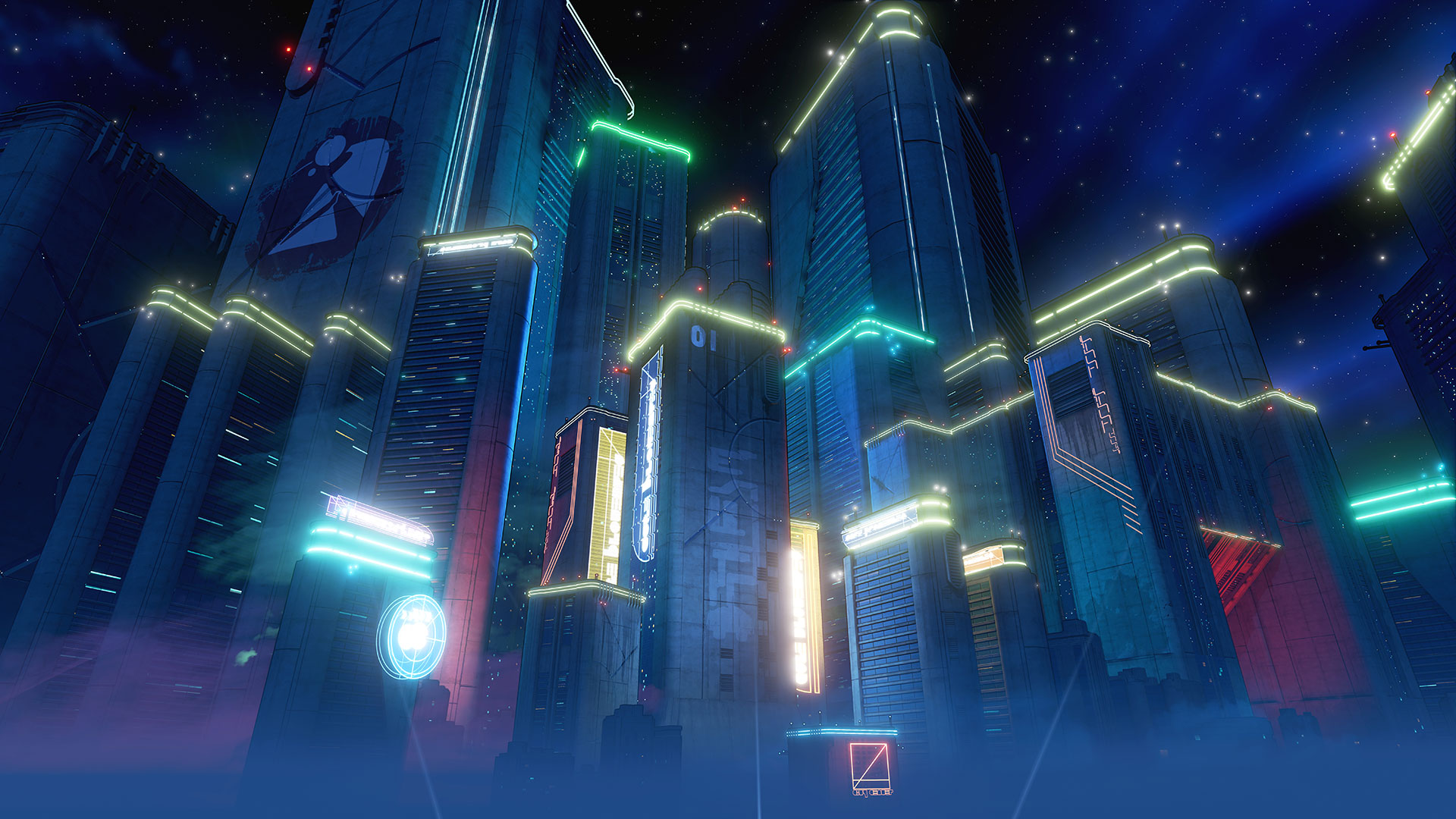 PROMETHEA
Composer: Michael McCann
Michael McCann is a BAFTA nominated and CLIO award winning composer for games, television and advertising. His 20-year career in music includes work for some of the biggest companies in entertainment and advertising. As lead composer, he has scored games such as Deus Ex: Human Revolution / Mankind Divided, XCOM: Enemy Unknown / Enemy Within, and Splinter Cell: Double Agent.
"Some of these Promethea environments are the most sci-fi- and cyberpunk-influenced in the Borderlands franchise to date. The cities have a very cinematic feel and the atmosphere is quite heavy: giant skyscrapers lit up with super bright neon lights, futuristic vehicles, oppressive corporate areas contrasted with decayed urban and underground environments. Right from the beginning, Raison knew there was an interesting challenge here. He knew Promethea's music would have to be both cinematic and heavily electronic, but it also needed to balance the eclectic style of game—the humor, the ultra-violence, the adventure—and to respect the existing music style and atmosphere of the whole franchise.
"We had a lot of discussions about how far to push the electronic side vs. reining it in with more acoustic elements. Between Raison's references and my own, I ended up pulling from a lot of genres through the score: breakbeat, synthwave, industrial, world music, various cinematic ambient and action styles, straight EDM, and some urban influences. This was an amazing score to work on; exceptionally challenging, but also a lot of fun. I loved the idea that each of the major planets has a different composer and different musical style. This approach means there's a huge range of music styles throughout the game, and I think it helps highlight and accent just how incredibly diverse and interesting this whole game is.
"Neon Arterial – Upper City is one of the more retro synth tracks from the score. I wrote it when I first saw the bright neon-lit skyline. Once I saw the city lighting I really wanted to write at least one atmospheric track where I could bust out the giant synth pads, guitars, and big reverbed-out '80s drums!" - Michael McCann
"One of my favorite aspects of the voice McCann brought to the series was a surprising nostalgic sound of '90s- and early 2000-era electronic music of the likes of The Chemical Brothers, The Crystal Method, etc. It's not a style I've ever deliberately pushed in the series but it felt great, and it's a great example of the magic that can happen when composers are given free range to bring their voice to bear and influence the music style of the game." – Raison Varner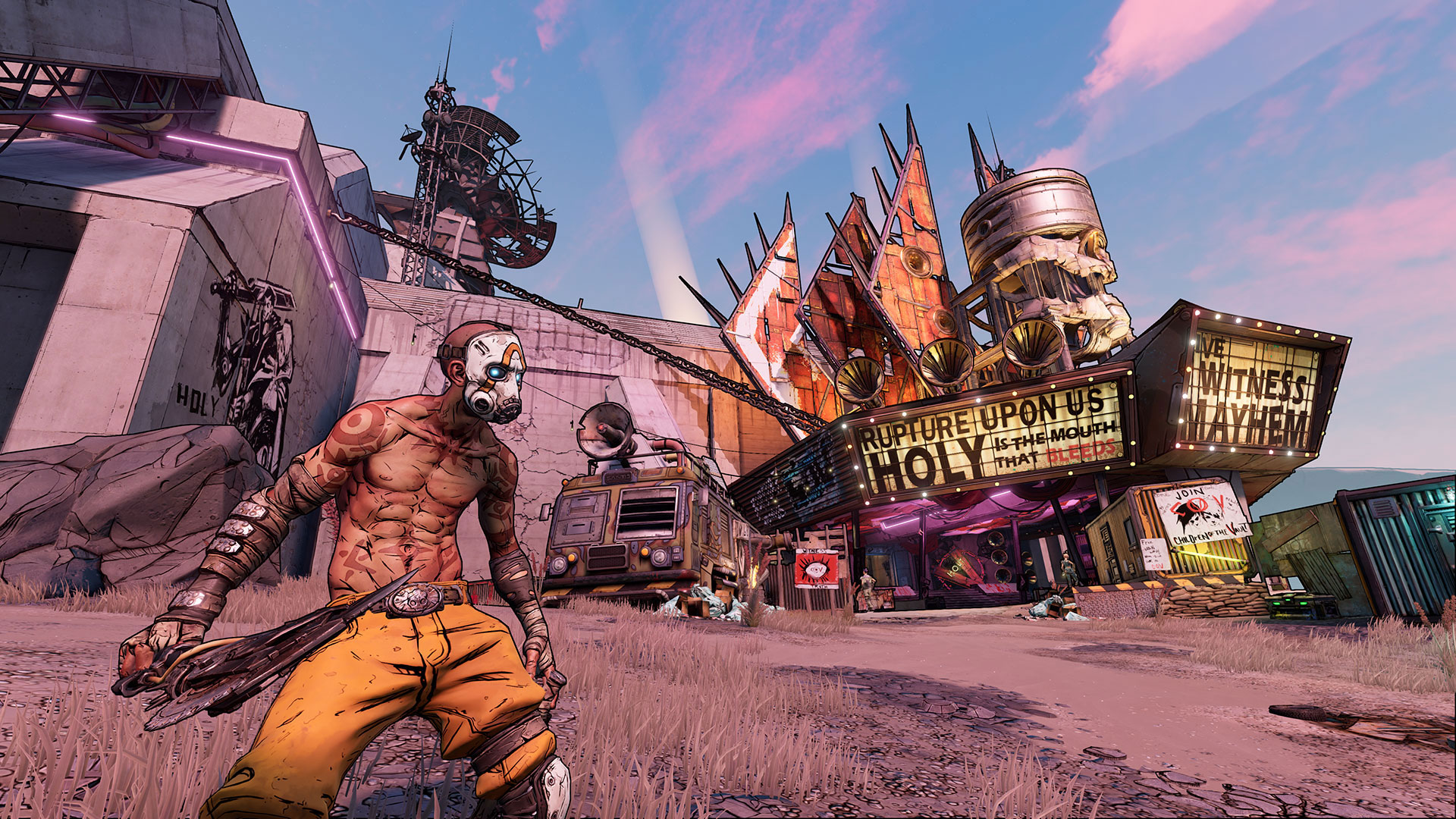 PANDORA
Composer: Finishing Move Inc.
Finishing Move Inc. is an award-winning production duo that composes music and sound design for games, television, and film. Formed in 2013 by long-time collaborators Brian Trifon and Brian Lee White, Finishing Move is known for their work on Borderlands 3, Crackdown 3, Halo Wars 2, Massive Chalice, Halo 2: Anniversary, and Halo: The Master Chief Collection.
"Pandora is a desolate, dangerous planet, where the environment is as tough as the bandits who occupy it, so the visuals provide tons of inspiration and unique sonic possibilities for music. As newcomers to the Borderlands composing team, we wanted to both honor the musical DNA and heritage of the franchise while simultaneously evolving the sound into the next chapter of the series. Just as the visual aesthetic of Pandora has evolved, we wanted to add new sounds and textures to the palette.
"We pride ourselves on making most of our instruments and sound design from scratch. Whether that's recording and processing an existing instrument like guitar or bass in a non-traditional way, or even building entirely new kits from sounds we recorded in the yard. Some of the more interesting textures we used for Pandora included many scraped or rusted-sounding elements. A lot of these came from either bowing instruments like cello or oud with weird objects or recording various metal tools from the garden shed. We'd then process and layer those sounds digitally to create wild new textures. We wanted to sonically convey that sense of decay and desolation you feel as a Vault Hunter exploring the beat-up, ramshackle spaces of Pandora." - Finishing Move Inc.
"The first time I had the inkling that Finishing Move would be a great addition to the Borderlands series was during a talk they gave at the 2018 GameAudio Conference in LA. They talked about their creative process and the way they build their custom sampled instruments and how all that tied back to their recording process. They bring a crafted sound and some serious aggression to boss tracks that feels great alongside the bandits and ferocity of Pandora's wildlife. They really understand the violent nature of this planet and how to incorporate unsettling tones that accompany their electronic work perfectly." – Raison Varner